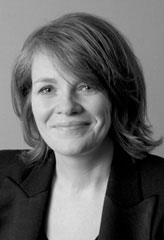 S O Sullivan Design is an architectural practice
led by Sibeal O Sullivan that specialises in
refurbishing and extending houses to make homes
full of space and light with a strong emphasis
on the interior design and the relationship
between the interior and exterior. The practice
has completed a large body of medium to large
scale work that includes conservation and
repair works to protected structures.

Before setting up S O Sullivan Design in 2006,
Sibeal worked for Murray O Laoire Architects
followed by two years of professional practice
in Paris where she gained valuable experience
in contemporary residential design. On
returning to Ireland in 1995, Sibeal joined
DMOD architects here she worked for over 11
years as an associate and project director.
While working with DMOD, Sibeal developed her
experience in conservation, residential and
large scale commercial projects for clients
including AIB, Bank of Ireland and a number of
private clients.
Sibeal is a member of The Royal Institute
of Architects and is also an accredited
conservation architect.